Trade fair report INTERZUM 2019, COLOGNE
The Interzum 2019 has not only been an anniversary event (60 years) but also a new record event in terms of visitor and exhibitor numbers. As the world's leading event for furniture production and interior design, it attracted over 74,000 visitors to Cologne this year. MKT was one of over 1,800 exhibitors from 60 different countries who were allowed to exhibit their innovations. With around 180 trade fair contacts, we were able to reach and meet more visitors than ever before.
We would like to thank all our visitors, partners and employees for making this year's interzum another great and successful event!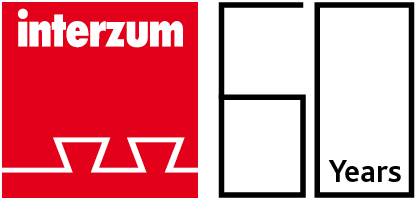 MKT presents edge banding with digital printing as a prototype
For the first time we showed our prototypes from the edge banding with digital printing. The customer reactions ranged from "positively surprised" and "enthusiastic" to "proud of MKT" about this important investment in the future.
Design Alliance with Schattdecor and Interprint
Visitors were also impressed by the latest edge banding matches in our ALPHA-TAPE® DESIGN ALLIANCE with the leading paper printers Interprint and Schattdecor.
Real concrete. Isn't it?
Concrete boards are a big topic and particularly are in demand in the design sector or in shop fitting. The matching edges for these patterns must be easy to process. With our new MKT-70 embossing in combination with Soft Matt lacquer, we have succeeded in developing an optically and haptically convincing product in which it is almost impossible to distinguish whether "real concrete or not?"
Small radii with 3mm edge banding - free of stress whitening!
Thanks to a special ALPHA-TAPE® PP formulation, it is possible to process small radii with CNC even with 3mm thick edge banding and WITHOUT unsightly stress whitening. The comparison to the conventional, break-prone edge banding (right side in the picture) was shown at our booth with the help of a red colored edge banding.
ALPHA-TAPE ZERO® HONEYCOMB for PP
In order to present our ALPHA-TAPE ZERO® HONEYCOMB product in the most interesting way, we built an entire presentation gate in cooperation with our partner RENOLIT using the appropriate PP honeycomb material and our matching edges.